Donor Advised Funds Offer Flexible Giving Options
1. Create a Fund
Tell us your charitable aspirations. We help you create a fund that matches your vision.
2. Give to The Causes You Love 
When you're ready, support your favorite nonprofits and maximize your impact. We do the paperwork.
3. Grow Your Fund Over Time
Your fund can live on forever. Your contributions are invested, and all growth is tax free*.
*This is for informational purposes only and should not be construed as legal, tax, or financial advice. When considering tax planning strategies, you should always consult with your own legal and tax advisors.
"We looked at other foundations, but I could feel my mother's heart at the Jewish Community Foundation. She was a strong member of the Jewish community in Hartford. Working with the Jewish Community Foundation on my mother's fund was an easy process." — Andy White
How Donor Advised Funds Work 
Your Donor Advised Fund is easily created with a tax-deductible minimum gift of $10,000. You can make grants from your Fund to your favorite 501(c)(3) charities — local, national, Jewish or secular — and even pay your synagogue dues. You can immediately make grants to charities or use your Fund as a savings account for future charitable gifts. Your Fund is prudently invested by the Foundation's managers. Your philanthropic giving is handled through one source, which reduces paperwork and eliminates the administrative burden of saving individual tax receipts. You can also give online 24 hours a day, 7 days a week.
Benefits of a Donor Advised Fund 
Flexible 
Donor Advised Funds offer the flexibility to customize your grantmaking and philanthropic experience. You can plan your fund contributions to maximize your tax benefits* and meet your other personal and financial needs.  
Easy
Take tax deductions on your donations to your fund, and then recommend grants to your favorite charities, on your timetable. Less administration, more flexibility, and we do all of the tracking for you.
Personal
Your giving grows and changes with you, and we're here to help you realize your goals. We provide research and insights so you can give your way. Grants are approved by our Trustees and sent to qualifying nonprofits in the name of your fund (or anonymously if you choose). Funds are often named for families or individuals (e.g., the Smith Family Fund or the Jane Smith Memorial Fund) or for other positive associations (e.g., the Elm Fund).
Build a Family Tradition of Philanthropy
Donor Advised Funds provide your family with opportunities to connect around meaningful giving experiences. Work together to make grant recommendations to the organizations and causes important to your family.
Values in Action – Fundholders' Impact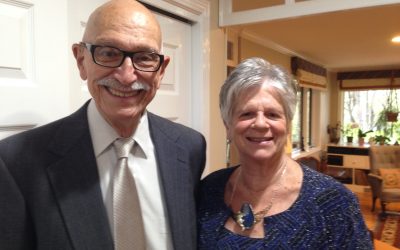 Sharing a commitment to fulfilling the Jewish teaching of tikkun olam.  When reflecting on living Jewishly, Michael and Naomi Cohen share a commitment to fulfilling the Jewish teaching of tikkun olam. For them, volunteering and philanthropy have been an obvious way of...
read more