Driving Directions
I-84 heading westbound
Take exit 48, Asylum Street
Turn right at light onto Asylum Avenue
Turn right at Scarborough Street (.6 miles)
Turn left on to Rt. 44 west/Albany Avenue
Take first right onto Rt. 189/Bloomfield Avenue (.3 miles)
At 3rd light, bear left onto Rt. 185/Simbsury Road
Entrance is on right (approximately .3 miles) – look for Zachs Campus sign
Follow road to front of building
I-84 heading eastbound
Take exit 43, Park Road
Turn right at light at end of the ramp
Make immediate left onto Trout Brook Drive
At 7th stoplight, take a right onto Albany Avenue/Rt. 44
Take 3rd left onto Mohegan Drive
Go straight for 1 mile
Take a right at the blinking yellow light onto Simsbury Road/ Rt. 185
Entrance is the 3rd left – look for Zachs Campus sign
Follow road to front of building
I-91 northbound
Take exit 32A to merge onto 84 west
Take exit 48, Asylum Street
Turn right at light onto Asylum Avenue
Turn right at Scarborough Street (.6 miles)
Turn left on to Rt. 44 west/Albany Avenue
Take first right onto Rt. 189/Bloomfield Avenue (.3 miles)
At 3rd light, bear left onto Rt. 185/Simsbury Road
Entrance is on right (approximately .3 miles) – look for Zachs Campus sign
Follow road to front of building
I-91 southbound
Take exit 35B, Rt. 218 west
Follow Rt. 218 for 3.75 miles
Turn left at light onto Bloomfield Avenue
At 3rd stoplight turn right on Simsbury Road/ Rt. 185
Entrance is on right (approximately .3 miles) – look for Zachs Campus sign
Follow road to front of building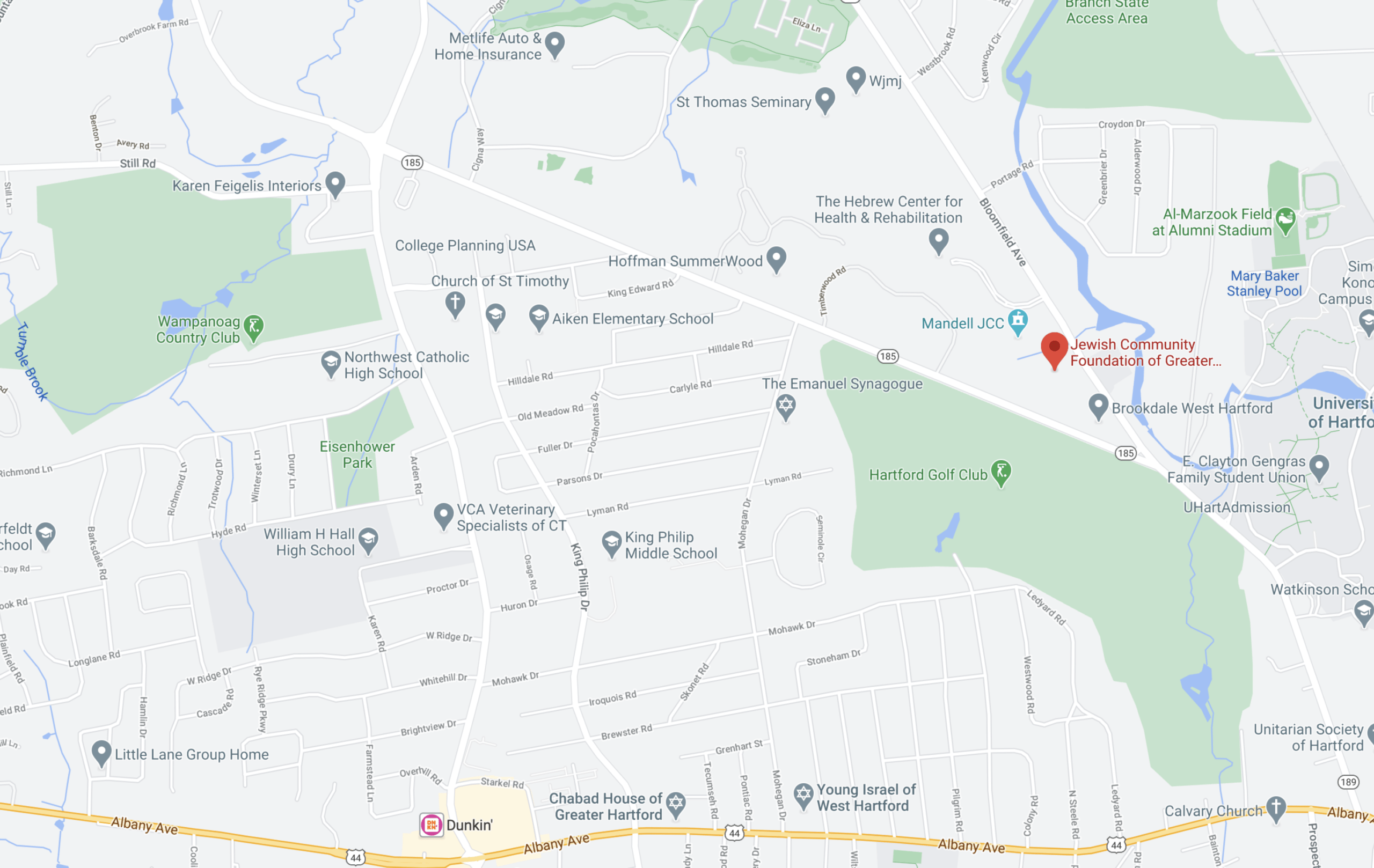 The Jewish Community Foundation
of Greater Hartford, Inc.
Zachs Campus
333 Bloomfield Avenue
Suite D | West Hartford, CT 06117
Phone: 860.523.7460
Our Office hours are:
Monday through Thursday, 8:30 a.m. to 5 p.m.,
Fridays 8:30 a.m. to 3:30 p.m.
We are located in Suite D of the Community Services Building on the Zachs Campus, at 333 Bloomfield Avenue in West Hartford, Connecticut. The main entrance is on Simsbury Road. Parking is located in the visitor parking lot directly in front of the building. Please use the telephone in the vestibule to call the Foundation for entrance into the building for delivery drop-offs. Our building is open to visitors who are wearing masks.
Join our e-newsletter list!