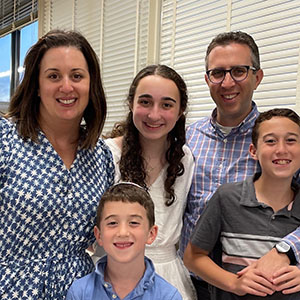 The Kay Family (back row): Arielle, Ellie and Jason; (front row): Jesse and Avi
Since moving here over seven years ago, we immediately found a home in the local Jewish community and still feel that way today. The Jewish community of Greater Hartford has something for everyone – wonderful synagogues for a variety of Jewish identities, stellar day schools, a JCC and other organizations with programming that suits the needs and wants of everyone, and tons of incredible opportunities for our youth and teens. And perhaps most importantly, Crown sushi is the best!
We were inspired to make a legacy commitment to Solomon Schechter Day School because it has become a home for us. We grew up attending a Schechter school in Upstate NY.  This experience shaped our Jewish values and identity, and our commitment to the Jewish community. We hope to instill those same values in our children.  We want our children to grow up with a love of being Jewish and have a strong Jewish identity. We want them to see the importance of a strong community and the value of serving that community by creating the kind of experiences they love.
A strong day school like Schechter plays a critical role in this experience, and we hope that our LIFE & LEGACY commitment will help ensure that future generations have the same opportunity. To us, Schechter's combination of strong academics and an amazing Jewish community creates the ideal upbringing for our children.