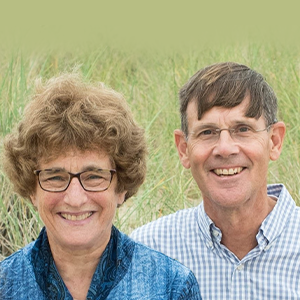 Rich and I have been members of Congregation Kol Haverim (CKH) since 1986. At the time, our sons were 7 and 5 years old and we wanted them to have a Jewish education.  During those 36 years, CKH has been the foundation for many friendships and for my connection to the community, through volunteering, service on the Board of Trustees, and other religious, social, and cultural activities.  CKH has enabled me to connect with others with similar customs and values, of different age cohorts than I might otherwise not have met in my daily activities.
I grew up in a rural area of New Jersey, and my parents were very involved as volunteers and lay leaders in the small congregation that served a wide area.  People of different backgrounds and ages worked together to build a community with limited financial resources. This fond memory resonated with me in my early years at CKH.
Over the years, our sons went through religious school education, Bar Mitzvah observances, and Youth Group activities at CKH.   They have retained the values of community service, volunteerism, and respect for family traditions and connections.
The LIFE & LEGACY presentations inspired me to think beyond our annual budget for charitable giving. An after-lifetime gift to benefit my congregation will help ensure that future generations of Glastonbury area families have the same opportunity for Jewish community and connection that we have found.