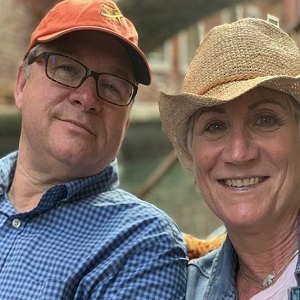 Why is the Jewish community of Greater Hartford so special to you?
We will be celebrating our 38th anniversary soon and we have spent all of these years in Hartford. Peter grew up in West Hartford and Lisa in New Jersey. We both grew up in the presence of a strong and vibrant Jewish community. We grew up with a variety of Jewish observance, but Jewish identity, tradition and values have been vitally important to both of us. Lisa moved here knowing we could raise a Jewish family. We have been involved in many Jewish organizations over the years. We have devoted significant effort to grow Voices of Hope into an organization to stand up against hatred through Holocaust and genocide education and remembrance. We want our community to have a voice to use lessons of the Holocaust to raise awareness and create a positive influence for future generations. Our sons live here and enjoy making this their community, too. We are the proud parents of Garrett and Ari Fishman, in-laws of Chelsea Fishman and Grandparent of Levi Fishman. Perhaps the most important thing is that you can live here and fully embrace your Judaism at any level you want because of the availability of Synagogue choices, day schools, kosher foods, the Mandell JCC and the many Jewish organizations that support and strengthen our community.
What are your fondest memories growing up in a Jewish community?
Peter: It was clear from an early age that our family was Jewish, we went to Synagogue, Sunday school, observed holidays, enjoyed family time with relatives and traditional Jewish foods. Those early memories of long Seder service with my family and potato pancakes during Hanukkah are etched in my mind. My mother Ruth "Tutti" Fishman is a Holocaust survivor; she survived along with her brother, mother, father and paternal grandparents. She did not have the luxury of a normal Jewish childhood. This miracle of survival and the importance to never forget has had a tremendous influence in our lives. From an early age, I intuitively understood how lucky I was to have the life opportunities that my mother did not. It was not until much later in life that I fully realized how lucky I was to grow up with the freedoms I had in a thriving Jewish community.
Lisa: My mom was involved in the Synagogue Sisterhood, Hadassah and ORT. My dad was involved in B'nai B'rith, which inspired my need to be involved in our Jewish Community in Hartford. The Jewish Holidays were always a time when our family spent time together, no one was ever turned away. We did not have a JCC, but were members of the YWHA. I went to the Y day camp and overnight camp where I clearly remember Friday night Shabbat services, singing, dancing and lighting Shabbat candles. I am so grateful my parents instilled in us the importance of being Jewish. My maternal grandparents were Orthodox and we spent every weekend with them in Brooklyn. My paternal grandparents were Holocaust survivors and lived in Washington Heights. The time I spent with my Nana also shaped my Jewish identity, as there was so much to learn from her.
What values are you trying to pass on to your children?
Because of our involvement in the Jewish community, our heritage of Holocaust survival and our belief in traditions and religious values, our children grew up knowing that these things are an important part of who we are. We want our children to value Jewish life and be able to live here and raise their families in a supportive Jewish community. They know how much we value this community both through our philanthropic giving and volunteering. We have both served in many capacities in this community over the years. Our son Garrett is on the board of the Federation and has become the next generation in our family to be involved in making sure we have a stable and strong Jewish community.
What inspired you to participate in LIFE & LEGACY to benefit our Jewish community?
Beginning from our experiences in the young leadership programs of 90's, it was our first young leadership mission to Israel in 1994, where we truly understood the importance and power of philanthropy and legacy. We started funds to ensure our giving continues to support what is important to us in this community. We started a donor directed fund, and a fund to support Voices of Hope and other funds. We have always planned to continue legacy giving through our estate planning. When LIFE & LEGACY started, we knew we had to be a part of this important initiative as it gave us the opportunity to make those desires more formal. Our connection to the Holocaust and the importance to never forget has empowered us to make certain our legacy is used to connect the past with the present and create positive change for future generations.