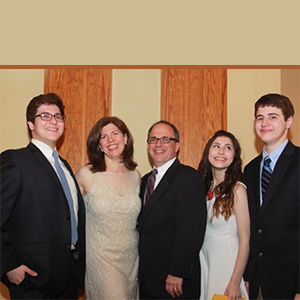 We moved to Hartford in 2003. At the time, we had no idea what our future held and how our lives would change. We had three young children, and our main focus was our family. Anna resumed her career in Jewish education working at the Jewish Federation and Michael had started a new job in the for-profit sector. Little did we know what the next 20 years would bring.
In 2007, Michael returned to the non-profit sector as the Jewish Community Foundation's first Director of Grant Programs. In that position, he learned more in depth about the many incredible organizations in our Jewish community. Soon thereafter, we learned that Jewish Family Services (JFS) needed a volunteer to pick up bread once a week at Crown Market. We offered to help. Over the next decade, we picked up bread every Tuesday and dropped it off at the Anja Rosenberg Kosher Food Pantry. This simple act had an enormous influence on our entire family; in fact, after graduating from college, our daughter Sophie went to work for Met Council's Kosher Food Pantry in New York City. When it came time to create our Legacy, we knew that JFS would be a part of it.
In the meantime, Anna had been working summers at Camp Ramah in New England. After several years working on the Jewish education staff, she transitioned to the Tikvah program; an inclusion program for campers with special needs. Anna loved her time with Tikvah so much that in 2014, she left her job in Jewish education to work in the West Hartford Public Schools and to pursue a Master's Degree in Special Education. This decision too had enormous influence on our entire family; including my son Harry also choosing to pursue a career in Special Education. As we discussed our Legacy, we wanted to support special needs and the Jewish Association for Community Living (JCL) was an obvious choice for us.
Over these past 20 years, Hartford has become our home and we wanted to find a way to acknowledge this in perpetuity. Creating a Legacy has enabled our family to focus on what is most important to us in creating a strong Jewish community for the future. We will feel fortunate to have the opportunity and ability to establish an endowment fund at the Jewish Community Foundation to benefit JFS and JCL.