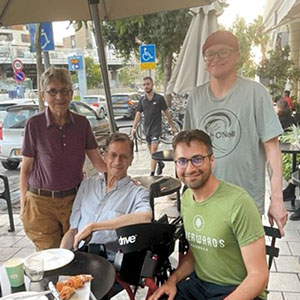 Donna and Tom Divine with their sons, Elan and Jonas.
Tom and I came to West Hartford in 1984 searching for a vibrant Jewish community for us and our children. What we found was so much more. There was the Solomon Schechter Day School moving from Temple Emanuel's basement to its own building and Tikvoh Chodoshoh, a synagogue as unique in its membership as to the tunes used in the service. We forged friendships and attachments that we continue to cherish. Both institutions gave us enormous satisfaction.
We wanted to associate our family with what we found in this community: acts of tzedek (righteousness) and hesed (love, mercy, kindness, loyalty) resting on institutional pillars dedicated to preserving those values. The endowment we created is a gift intended by design to last forever and to give eternal life to the ideas sustaining this community. It is no accident that the name of the project of which these paragraphs form a part is the Book of Life.