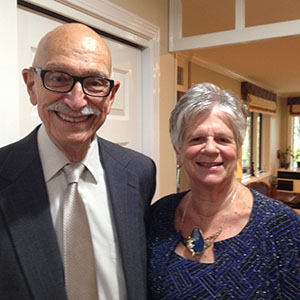 We share a commitment to fulfilling the Jewish teaching of tikkun olam. Volunteering and philanthropy have been an obvious way of life, built on the values that we learned from our parents — who were great teachers.
We were both born in Hartford, and together we have lived, worked and raised our three sons here. Everything that has brought us joy and good fortune has come to us from within this community, and we feel it's not only a responsibility but also a privilege to give back to the community that has given our family so much.
Michael is a past president of Jewish Family Services, Naomi is the co-founder of the Hartford Jewish Coalition for Literacy (now Children's Reading Partners), and each of us have served as a President of Beth El Temple. The next logical step for us was to plan our giving beyond our lifetime to honor our heritage and to sustain the vibrant and vital Jewish community organizations upon which so many rely so often.
It's important for us to leave endowments because the Foundation is going to be here long after our lifetimes. Just like our parents could have never imagined what the needs of today would be, we cannot imagine what unmet needs there will be years from now.