Four community leaders have joined the Board of Trustees for the Jewish Community Foundation of Greater Hartford.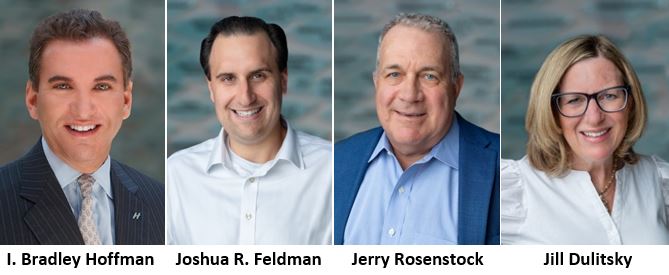 I. Bradley Hoffman has earned numerous accolades for his community service and business leadership. As co-chairman of the Hoffman Auto Group, Bradley oversees one of the most successful and reputable automotive retail groups in the country with locations in East Hartford, Avon/West Simsbury, New London, and Waterbury, CT. In 2023, Bradley was honored as the Connecticut Dealer of the Year Award and the TIME Magazine Quality Dealer of the Year Award and Finalist. Bradley also earned the Hartford Business Journal Lifetime Achievement Award.
He also was honored for his support of nonprofit organizations including the Gala Excellence Award from the National Arthritis Foundation; Circle of Hope Award from Easter Seals; Torch of Liberty from the Anti-Defamation League; and James B. Lyon Award from his alma mater, Kingswood Oxford School.
Bradley has been supporting the Jewish community for more than 20 years with an extensive list of leadership roles at the Jewish Federation of Greater Hartford (the Federation), including Chairman, First Vice President and President of the Board of the Federation; Vice Chairman and Chairman of the Federation's General Campaign; Co-Chair of the Federation's Major Gifts Mission; and a Member of Governance Committee.
In addition to serving on many local and national boards over the past 35 years, Bradley's current Board appointments include: Co-Chair of the Jewish Federation of Greater Hartford Wallenberg Society; Life Trustee for the Boys and Girls Clubs of Hartford; Kingswood Oxford Trustee Emeriti; and Corporator for Hartford Hospital. He also serves on the board of directors for CT Automotive Retailers Association, Automotive Free International Trade Political Action Committee, and CT Hydrogen & Electric Automobile Purchase Rebate.
Bradley and his wife Kathy reside in Avon and are proud to have raised five children together. They are thrilled to now be the grandparents of three incredible grandchildren!
A native of Hartford, CT, Bradley is a 1978 graduate of Kingswood Oxford School in West Hartford and a 1982 graduate of Babson College in Wellesley, Massachusetts, earning a Bachelor's degree in Business Administration.
Joshua R. Feldman is a prestigious, award-winning member of the legal community. Josh is a Partner and Connecticut Family Law Attorney at Ruel, Ruel, Burns, Feldman & Britt Attorneys at Law in Hartford, where he concentrates his practice exclusively in Matrimonial and Family law. He represents clients throughout Connecticut in cases involving divorce, child custody and parenting plans, child support, alimony, and the distribution of property upon the dissolution of marriage. Josh's practice includes handling various post-judgment matters such as modifications of alimony, child support, custody and visitation, and college education disputes.
A dedicated philanthropist and volunteer supporting Jewish Hartford, Josh is a member of the Grants Committee at the Jewish Community Foundation of Greater Hartford. He is also a board member and Treasurer for the Mandell Jewish Community Center of Greater Hartford, as well as chair of the Development Committee and co-chair of JNext at the JCC. Josh is also a member of the Men's Philanthropy Committee Member at the Jewish Federation of Greater Hartford, and a member of the Wexner Heritage Program New England 21 Class.
Honored as a New England Super Lawyers Rising Star® in Connecticut, Josh is a member of the Hartford County Bar Association and serves on the Connecticut Bar Association's Executive Committee, Family Law Section. He is a former member of the Connecticut Bar Association Family Law Section COVID-19 Taskforce.
Josh and his wife Jillian reside in West Hartford.
Josh earned his Juris Doctor Degree Cum Laude, a Distinguished Academic Achievement Award and honors for Excellence in Clinical Work from Quinnipiac University School of Law in Hamden, Connecticut. He also earned his Bachelor's Degree in Business from the University of Connecticut in Storrs.
Jerry Rosenstock is an accomplished professional and volunteer with a diverse background as a strategic tax leader, attorney and executive. With a career spanning over 35 years at the firm of Ernst & Young (EY), Jerry played a crucial role in guiding clients through complex tax and financial matters. Jerry has demonstrated a consistent commitment to excellence and client service, earning accolades for his outstanding performance.
In his most recent role as a leader in EY's Global Risk Organization, Jerry managed firm risks related to contractual matters, conflicts of interest, policy concerns, and other sensitive situations. He is well-versed in applying the rules set forth by various regulatory bodies and ensuring strict adherence to ethics and conflict resolution for business-related relationships.
Jerry's expertise extends beyond the technical aspects of taxation; he is recognized as a subject matter expert and thought leader in the field, often sharing his knowledge through presentations and insights on complex tax topics. In addition to his professional accomplishments, Jerry possesses a diverse skill set that includes planning and execution, talent acquisition, organizational restructuring, business development, risk management, and team leadership.
With a passion for giving back to the community and making a positive impact, Jerry has dedicated his time and expertise to several non-profit organizations by helping them navigate financial and tax-related challenges.
Jerry and his wife Elise Rosenstock, of ElyseRyan Jewelry, reside in Avon and are members of Beth El Temple. They have two daughters, Riayn Lavoie and Shani Schiano, and two granddaughters.
He earned his Bachelor's Degree in Marketing and Economics from The Ohio State University and his Juris Doctor Degree from Cleveland-Marshall College of Law, Cleveland State University. Jerry is a licensed Certified Public Accountant (CPA) in Connecticut, Ohio, and Massachusetts, maintaining his CPA licensure since 1995.
Jill Dulitsky is a passionate philanthropist and entrepreneur who owns and operates a used car dealership and auto finance company. Prior to this business venture, Jill was a financial analyst for Microsoft in Seattle, WA, and for Credit Suisse First Boston in New York, London, and Boston, where she received her Chartered Financial Analyst certification. Jill is currently earning her certification as a business coach to entrepreneurs.
A native of Madison, Connecticut, Jill has deep philanthropic roots in Greater Hartford's Jewish community. She is a past board member of Journey Home, an organization that works to end homelessness, and at Solomon Schechter Day School, where her children received part of their education. She is also a past president of Temple Sinai in Newington, CT.
Jill is the chair-elect of the Board of the Jewish Federation of Greater Hartford, beginning September 7, 2023, and the current Chair of the Women's Philanthropy Division. She also serves on the Jewish Federations of North America's Board of Trustees and is a member of the National Women's Philanthropy Board.
Jill earned a Bachelor's Degree in Finance from Lehigh University in Bethlehem, PA. She and her husband Rob are proud members of Temple Sinai in Newington. They have two teenage children and the world's best mutts, Milo and Henry.
ABOUT THE JEWISH COMMUNITY FOUNDATION OF GREATER HARTFORD
The Jewish Community Foundation of Greater Hartford (the Foundation) was founded in 1972 with an initial gift of $50,000. Thanks to the vision and generosity of individuals, families, businesses and organizations, past and present, the Foundation has $164 million in assets under management, 1,400 individual charitable funds, and grants approximately $4.4 million annually.
The Jewish Community Foundation of Greater Hartford unlocks the power of personalized and collective philanthropy to solve problems, strengthen community organizations and provide permanent support for Greater Hartford's Jewish community. The nonprofit is a proud partner to the Jewish Federation of Greater Hartford and a member of the Connecticut Council for Philanthropy.